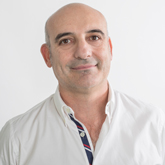 Investigadores
Santiago Barrio
Lucia Virginia Fernández
Miguel Gallardo
María Linares
Investigador Clínico I
Rosa María Ayala
María Calbacho
Gonzalo Carreño
María Teresa Cedena
Francisco Javier De La Serna
Carlos Grande
Ana Jiménez
María Inmaculada Rapado
Antonia Rodríguez
Ricardo Sánchez
Becarios Post-doctorales
Sergio Algar
María del Carmen Fiuza
Almudena García
Alejandra Leivas
María Asunción Martín
Antonio Valeri
María Velasco
Becarios Pre-Doctorales
Pedro Aguilar
Javier Alcázar
Noemí Álvarez
Eva Castellano
Isabel Cuenca
Jessica Encinas
Elena Maroto
María Alejandra Ortiz
Alba Rodríguez
Laura Sánchez
Técnicos de Laboratorio
Paula Calvo
Adrián Fernández
Vanesa Garrido
Alicia Giménez
María Luz Morales
Laura Moreno
Miguel Ángel Navarro
Laura Rufián
The Haematological Malignancies Laboratory focuses on investigating novel drivers, biomarkers, diagnostic tools and therapeutic targets and approaches in haematological neoplasms such as myeloma and acute myeloid leukaemia.
Five main lines define our research project:
Generation of mouse models focused on the molecule hnRNP K, a novel driver of lymphoma and leukaemia.
Development of novel diagnostic and follow-up tools, such as minimal residual disease analysis in acute myeloid leukaemia (AML).
Screening of novel drivers, biomarkers and therapeutic targets by next-generation-sequencing (NGS, e.g. exome sequencing of amyloidosis).
Innovation of immunotherapy approaches. Generation of NK CARs and in vitro/in vivo validation.
Novel therapeutic approaches. Screening of novel compounds (e.g. hnRNP K inhibitors) and pre-clinical trials of new drugs or drug combinations.
Publicaciones