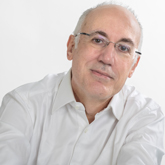 Celia María Ramos
Secretary
Excellence in research has to go hand in hand with excellence in the technology that supports it.
Fernando Peláez
The technologically sophisticated equipment needed to produce cutting-edge research has by now become not just a desirable accessory but an essential tool for scientists.
At the CNIO, nine different units provide scientific-technical support for researchers. These Core Units, as they are known, are tasked with meeting the high-tech requirements of high-end biomedical research, ranging from the sequencing of genomes and analysis of proteomas to the latest breakthrough in molecular imaging or microscopy, to name just a few.
In all of these units, highly qualified personnel are available to advise or assist in CNIO-sponsored initiatives while at the same time offering its support to researchers from other public or private entities. The CNIO's biotech specialists also carry out research on their own, in a constant effort to acquire new tools or adapt old tools to new uses.
One recent incident involves the development of genetically modified rats in which for the first time ever, it has been possible to detect the earliest stages of metastasis. Another discovery in which the Biotech unit played a key role involves in vivo cellular reprogramming, allowing researchers to directly obtain pluripotent stem cells from living adult organisms.
The Core Units are organized as follows: Proteomics (Javier Muñoz) Genomics (Orlando Domínguez), Confocal microscopy (Diego Megías), Molecular Imaging (Francisca Mulero), Mouse Genome Editing (Sagrario Ortega), Monoclonal Antibodies (Giovanna Roncador), Histopathology and Flow Cytometry (Lola Martínez).